Post by vraev on Apr 20, 2008 13:19:50 GMT -10
NEPENTHES OF BORNEO | 2006 reprint
by Charles Clarke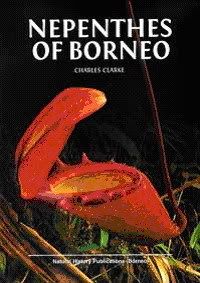 Introduction:
Borneo is a hotspot for nepenthes with aroud 32 species endemic to the island. They include plants such as the coveted N.rajah, N.villosa to everyone's favourite easy lowlander: N.bicalcarata. The following book is a culmination of Charles Clarke's studies from Borneo.
Structure:
Please bear in mind that there are 200 colour photographs in the book. But that is not the purpose of this book. This book is definately meant for the nepenthes hardcore enthusiast. The book has around 200 pages which is pretty low count atleast for a nep fanatic like me, but the quality is excellent. It starts off with some information regarding the nepenthes genus with studies on pitcher life span, pitcher formation case studies and so on. Later it dvelves into a section dedicating a page for each of the nepenthes species on the island. The last few pages then discusses some of the famous hybrids from the island as well.
Value:
The book is priced at 90$ (incl shipping) for us canadians which is from Orchid books in quebec. It is a hefty price for just 200 pages of info with pics that you could probably find online. But, do note that the pics included are never before seen and offer a spectacular window into the true heaven of nepenthes. However, for the information provided its definately a masterpiece. I personally love it and think it is a keeper.
Conclusion:
Fantastic book. Talks about the common species I mentioned and also about the enigmatic & species that we can only dream of such as N.edwardsiana. Magnificent & a must buy for a nepenthes hardcore hobbyist.
9/10
(note: I take off one mark for the price as I still think its a pretty big dent in the pocket)