Post by sockhom on Nov 12, 2008 3:20:38 GMT -10
These are the setups of the french pal:
Kohléric
:
Hello,
A short review of my setups where I grow lowland and highland species and hybrids.
Lowland terrarium :
dimensions : 1,75m X 1,20m X 0,60 m
I made it with polystyrene plate (extruded polystyrene, thickness : 2cm, joining with silicone paste) and wood. Wood and polystyrene are separated by a plastic film (absence of wood-water contact).
Lighting : two 125W "economic" bulbs
No heating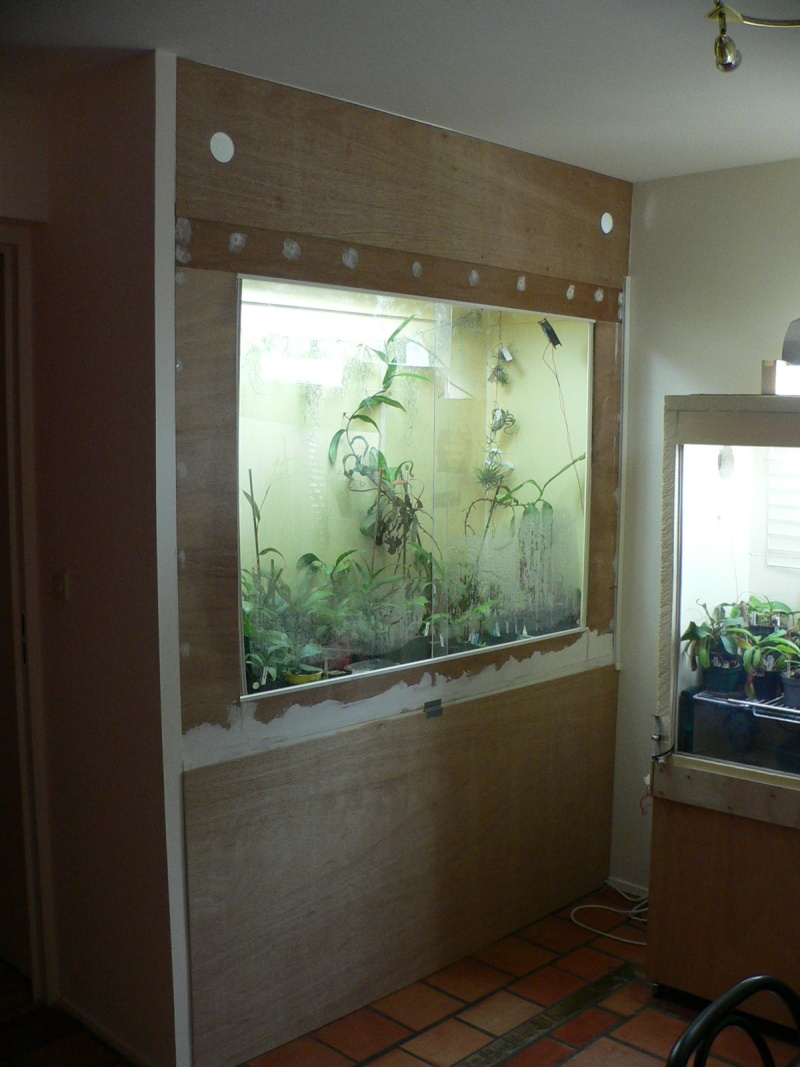 Under the terra, I have all of the electric connections and the misting system.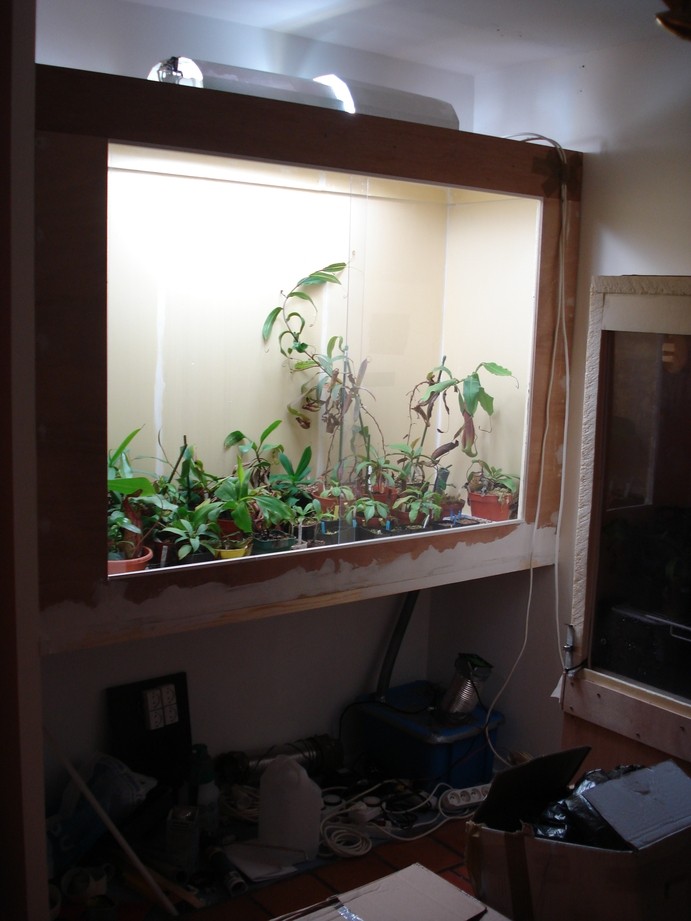 The fog is produced in a plastic box by an ultrasonic fogger, the fog is pushed by a pc ventilator. The system is only used 15 minutes per day (sufficient to have high humidity all the day).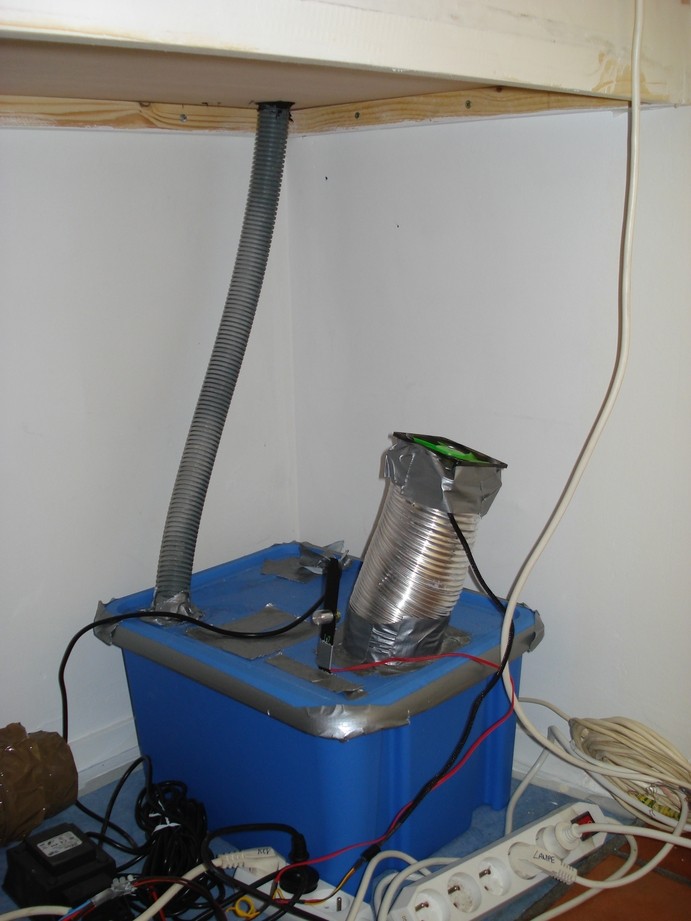 the fog passes through the floor in a ventilation duct.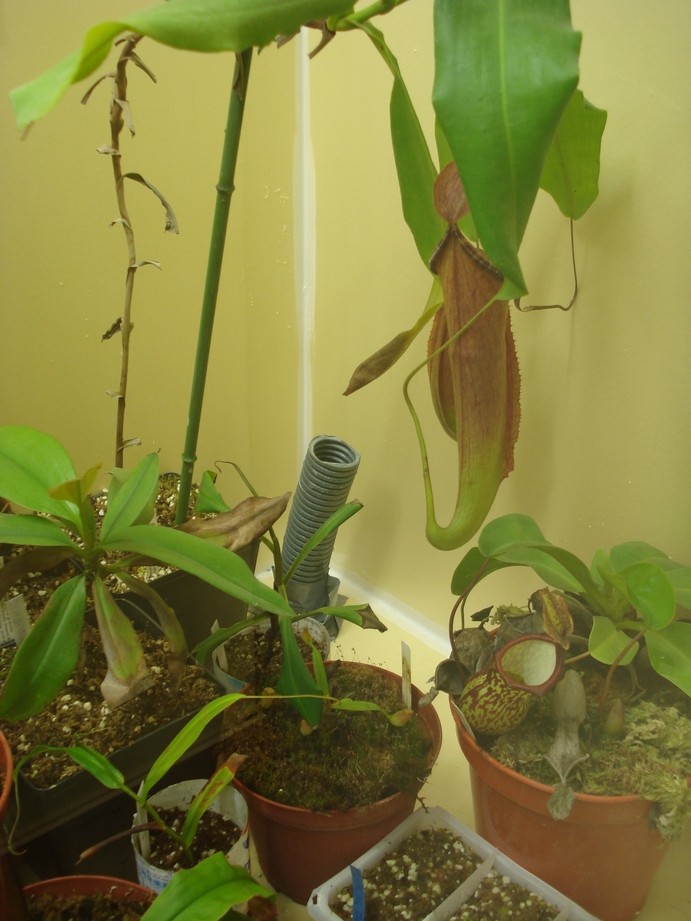 The nepenthes are very happy ;D
Ampullaria Green (Angkasa, Irian Jaya)
Ampullaria Red speckled (Brunei)
Adnata (Sumatra)
Albomarginata Red
Albomarginata Green
Bicalcarata orange (amber) (Brunei)
Eustachya (K. Sembilan, Sumatra)
Gracilis
Mirabilis
Mirabilis Winged
Macfarlanei (Genting, West Malaysia)
Northiana
Rafflesiana #1
Rafflesiana #2
Reinwardtiana (Sumatra)
Reinwardtiana var. samarindaensis
Sanguinea
Tomoriana (Tomori Bay, Sulawesi)
Truncata
Viking
Vieillardii Red
Hybrids
Campanulata x Maxima
Ile de France (Mixta x Lecouflei (Mirabilis x Thorelii))
Mixta (Northiana x Maxima)
Veitchii x Boschiana
Veitchii x Lowii
Ventricosa x Maxima
Ventricosa x Ramispina
Ventricosa x Sanguinea
Ventricosa x Xiphioide
Seedling
N. Alata 'Red Form' from Dinagat
sp nova DA
sp nova Mantalingajanensis
Bokor (sp Cambodia)
Splendiana x Judith Finn
(Thorelii x (Stenophylla x Lowii)) x (Spectabilis x Veitchii)
Splendiana x Mixta
Adnata x Rafflesiana giant
Ventricosa red peristome x Rafflesiana giant
(Eymae x Veitchii) x Mixta
(Maxima x Stenophylla) x Mixta
Sown recently
(Thorelii x (Stenophylla x Lowii)) x Mixta
Splendiana x Truncata
Albomarginata
Rafflesiana #1
Rafflesiana #2
Gracilis
Ampularia
Gymnanphora (Wonosobo, dieng Mountains, Central Java)
(Eymae x Veitchii) x (Ventricosa x Aristolochoides)
Ampullaria (Cyclops Mountain Papua Jayapura)
Reinwardtiana "red plants" (Sinhawang West Kalimantan)
Ampullaria (Papua cyclops)
Macfarlanei (Genting Highland)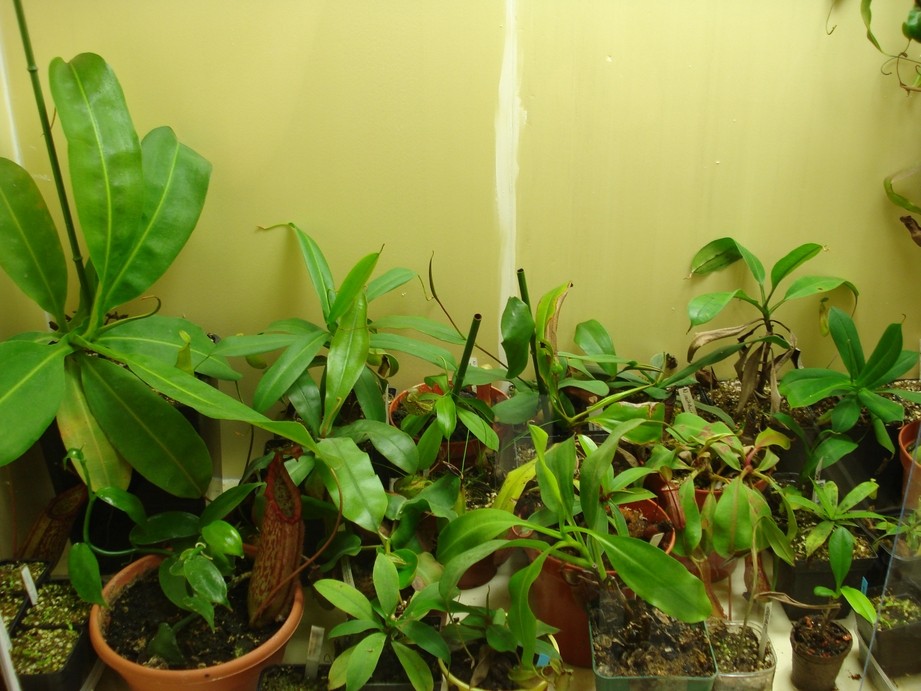 Highland terrarium
Lighting : 200W "economic" bulb
The cooling is produced in two way according to the period in the year. I live in France (temperate climate) and I used cold air in winter. In summer, a fridge is used.
At the right.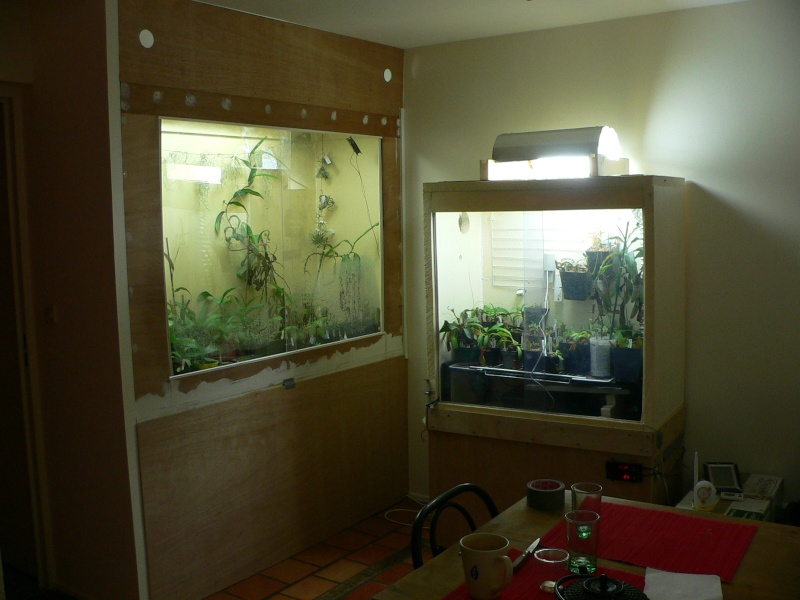 Photographs during construction :
Cooling is obtained by blowing on the cold plate.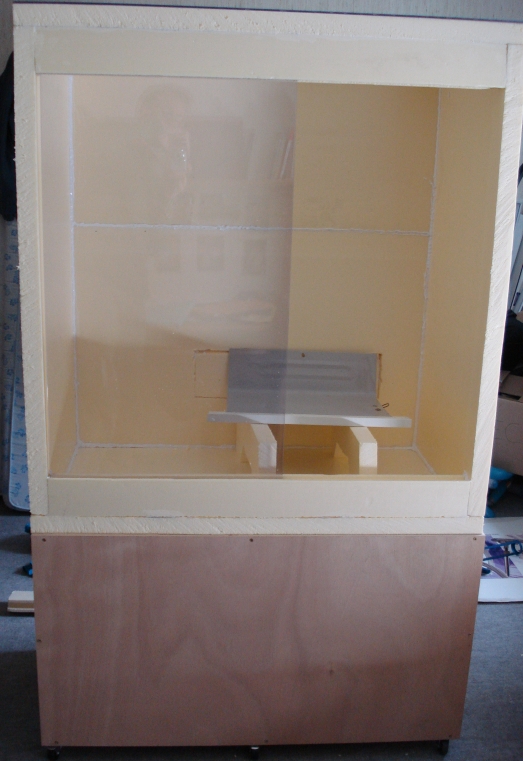 The fridge compressor is installed at the back of terrarium in the base.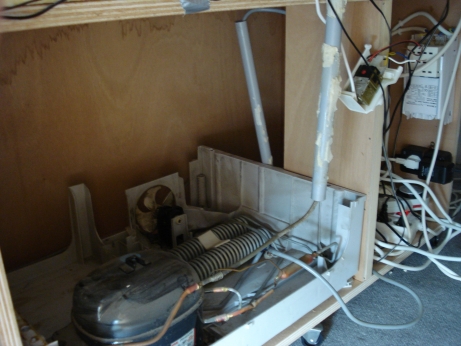 The cooling is controled by an electronic regulator, the temperature sensor is installed in top of the terrarium where the température is higher. The regulator is linked with fridge in summer and with a simple pc fan in winter.
I measured the temperature during the winter :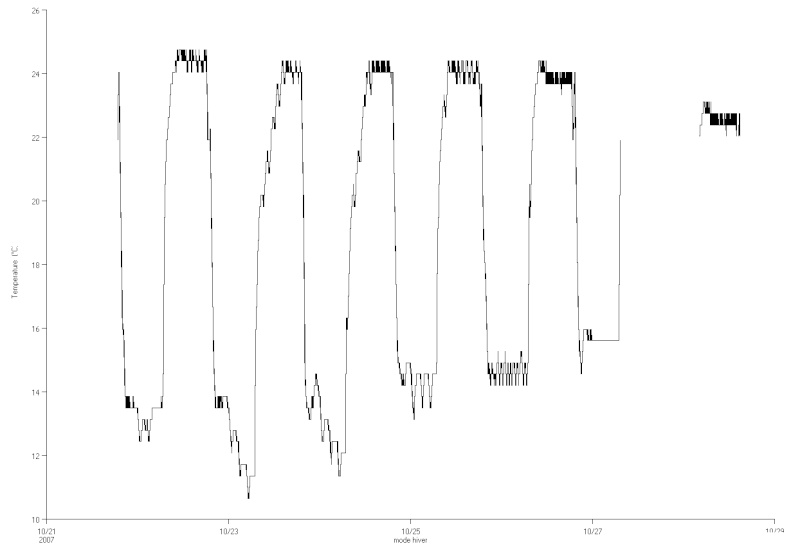 The humidity is controled by an electronic regulator. It's essential when I use cold and dry air in winter. The regulator is linked with an ultrasonic fogger and a pc fan.
With this two regulations the temperatures are 25°C (day, 77°F) and 15°C (night, 59°F) and the humidity is between 70 and 90 %RH.
The nepenthes are very happy ;D
Alata Red
Aristolochoides (Sumatra)
Copelandii
Danseri
Densiflora
Eymae
Ephippiata (Borneo, Kalimantan)
Fusca
Hirsuta
Izumiae
Lowii
Rajah
Ramispina
Sanguinea
Talangensis
Truncata Red
Veitchii (Sungai Samba, Borneo)
Ventricosa
Villosa
Hybrids
Ampullaria x Veitchii
(Rocko x Veitchii) x Veitchii
Talangensis x Tentaculata
I will correct my message according to your reactions. Please excuse me for the English faults