Post by osmosis on Apr 28, 2008 10:12:47 GMT -10
I have a 12' x 8' greenhouse, usual single glazed aluminium framework, on a bench height brick base
It is in an imperfect orientation so that the short vertical end gable is south facing and the long sloping sides west and east facing. The west facing side is further blocked by a 5ft fence. Still, it's all I have room for and however much I long for a larger space I won't get it except by moving house.
Rainwater
Inside and built into the brickwork is a 150 gallon reservoir, with another four 30 gallon plastic tanks under the benches. Rainwater is collected by a small tank on the house roof downpipe, then moves by gravity though an underground pipe into the tanks in the greenhouse which are all connected together
Electrical systems overview
The principle I have tried to adopt on all the supporting infrastructure within the greenhouse is redundancy. I have tried to ensure that wherever possible no one failure can cause a fatal problem
There are three power supplies back to the house distribution unit
The first supply – the 'primary' – feeds one set of equipment which is deliberately kept the simplest and newest. This has just a hydrofogger, electric heater and extractor fan. These are the critical services that the greenhouse needs to run. Hopefully the chance of anything failing here is minimised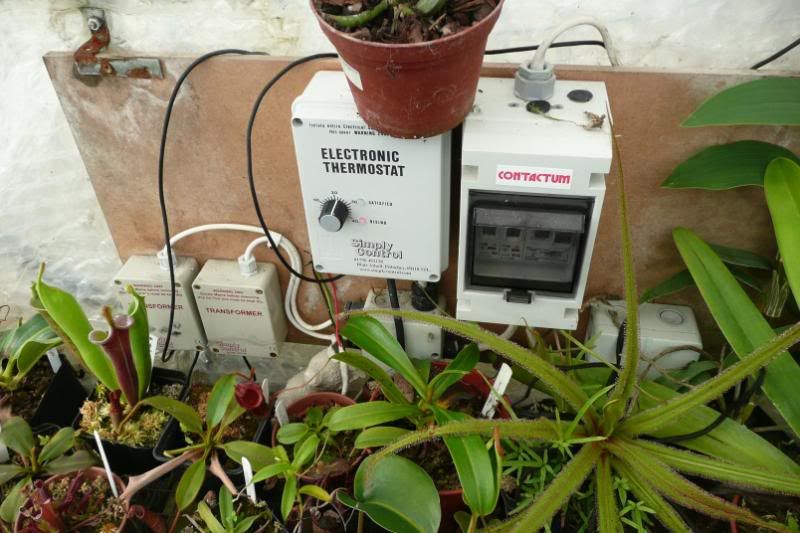 The next supply - the 'secondary' – has the same as the primary, but with additional equipment such as day/night control, Halide lighting, room lighting, watering pumps, plug sockets, intruder alarm and an outside lamppost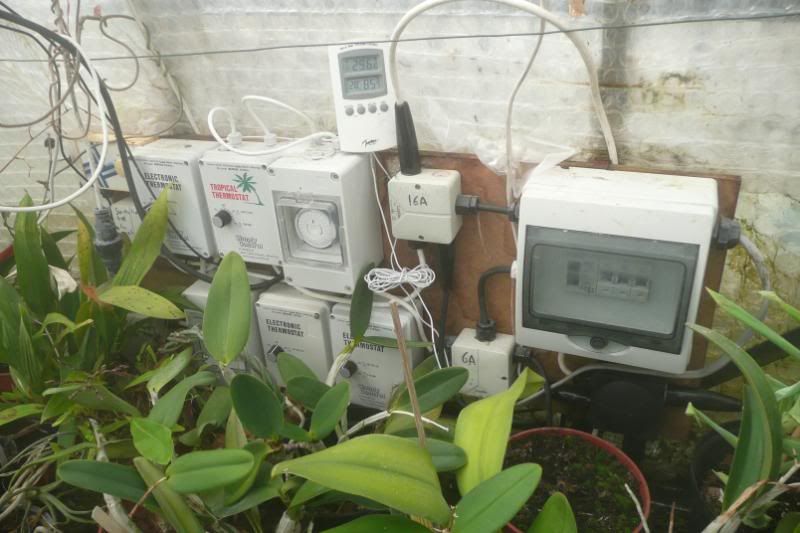 The last supply is run through a battery and inverter system to act as an uninterruptible power supply. The capacity of the system is relatively low, so only a circulation fan runs off this, though I plan to move one of the extractors to this supply as well.
The primary and secondary supplies terminate within the greenhouse into distribution units with RCD protection and a range of trip fuses, 16A, 6A and 3A. Each of these fuses feeds an IP65 rated junction box and the equipment is connected into these with IP65 rated glands and where possible cable shrouds
The UPS supply just goes straight into a junction box, but is on the main house RCD circuit.
Circulation & heating
Both 4KW heaters have continuously running fans and so provide a certain amount of circulation. One is mounted under the benches, the other above the benches angled downward.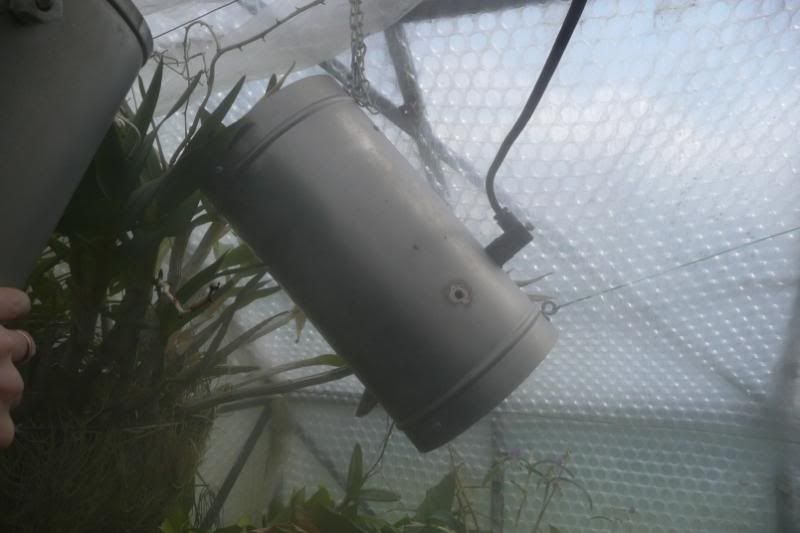 In winter I also run a small gas heater off a propane cylinder. As this has no electrical parts this should protect against power failure. The circulation fan points straight down and stops stratification. This is particularly important during power failure when the gas heater cooks plants in the eaves whilst not heating down to the floor enough to switch itself off.
One of the heaters is on a day/night temperature controller. Regrettably the one I bought can only be set to a 6 deg C differential, which I do not think is enough. I intend building or buying something more suitable and flexible, perhaps using cheap timers and separate relays rather than purpose built units. I am currently running a winter minimum of 13 deg C but I intend dropping this gradually to closer to 10 deg C next year to save money and create a greater winter differential up to perhaps 18 deg C daytime.
The halide lamps also provide a certain amount of direct heating of the plants above ambient air temperature which may help
Ventilation/ Cooling
The greenhouse is force ventilated with one 12" and one 9" extractor fan mounted low in the walls drawing cool air into the greenhouse. Hotter air is exhausted through one roof vent operated by an expanding wax type vent opener. The operation of these fans also provides a lot of air movement.
At present both extractors are operated by a simple thermostat, but this year I intend to add a second supply to one of the extractors on a timer and lower setting thermostat. This should allow me to run the extractor for a couple of hours in the later summer evening to draw in the cool and humid evening air and drop the greenhouse temperature sharply rather than relying on natural heat loss
I have also purchased a mobile air conditioning unit and might consider putting this on another timer for a period after the proposed late evening ventilation to further bring down the night temperature if necessary
Humidification
I think the foggers I have are crucial to providing good growing conditions. Not only do they keep the humidity up, but together with the ventilator fans they keep temperature down and allow me to allow as much light as possible – another critical growth factor for neps
I have one spinning disc type hydrofogger (Jaybird XE-351) which produces a superb fog vented vertically upward. This is fed by gravity from the rainwater tanks. Sadly they no longer manufacture this type.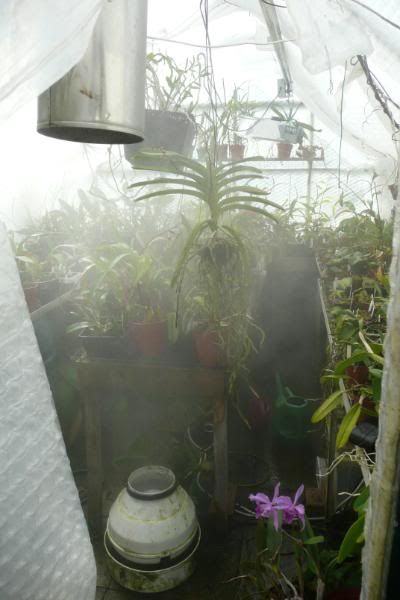 I also have one of their latest model, the XE-400 which is a propeller type and which I find produces an inferior amount and fineness of fog, and is also less reliable. This should be mounted high, but I can think of no easy way to get rainwater up to that level, so it is currently on the floor in front of one of the extractors. In this way it generates a fog in the incoming airflow and wets the floor which is quite effective whilst force ventilation is taking place. As it's fog does not land on plants, I have it being run off tap water to save rainwater consumption.
Together these two are capable of keeping humidity above 70% even on summer days. The evaporation also can keep temperatures inside several degrees lower than outside
Light
I consider light to be perhaps a generally underrated factor in successful nep growth. Yes, some are clearly happy in the understory but many are shown in habitat in full tropical sun. I try to use minimal shading even in the summertime, and cover only the sloping roof sections with a single layer of 40% shading cloth. My plants grow alongside Cattleya orchids, considered to also be high light requiring.
During the winter months I also use a 500W metal halide lamp moved back and forward on a light rail to cover a greater part of the growing area. Unfortunately I have not quite worked out how to get this right. The greenhouse is too low to get the full glare of the light far enough away from the plants so I have been forced to run it in between the benches, which is rather wasteful. The plants on the benches either side however are responding extremely well, with relatively small thick glossy leaves and short internodes, some tinged lightly with red. Very few plants have shown real light stress under this treatment and some such as N.villosa absolutely thrive in the full glare.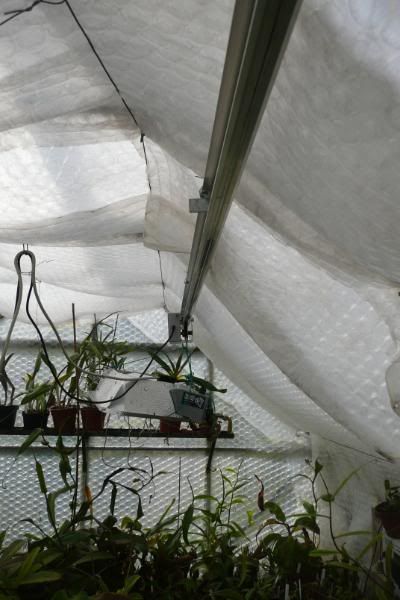 The timer for the light and light rail are a simple cheap central heating timer, switching the 500W light by a 3KW rated relay. Since none of these, or the lighting ballast, are waterproof I house all of them in a plastic storage crate. The heat of the ballast helps keep this a corrosion safe environment but I have to be careful not to splash water about without care.
Benches
In an 8ft wide greenhouse there is an annoying need to have more than one lengthways path. Currently benches run round the edge of the house, with one down the middle. I try to keep the widths of the paths to a minimum but this makes navigating the greenhouse awkward and results every now and then in a knocked off plant. I am currently working on a movable middle bench solution, rather like library stack shelves, so that only one path is necessary. This has not so far proved easy or cheap to create a proposal.
All benches have slats to allow air circulation through and between the pots
Insulation
Insulation is through one or more layers of large bubble plastic sheet. In an aluminium framed greenhouse I find this difficult to manage. It would be great to work out a way of getting it on and off easily enough to adjust with the seasons, but I haven't yet worked out a method. Of course the more that goes on in winter the more our pitiful winter sun gets further filtered out. One advantage of the half brick construction is that this can be better insulated
And that's it.